Productivity Challenges in and Way Forward for Chemical Industry
AT A GLANCE
Agility is a synonym for growth in today's business environment, and chemical companies are continually attempting to be agile in processes, operations, and outcome to keep up with the changing times.
Conventionally, many chemical companies have adopted the reactive model, which is now adversely affecting their overall productivity and market responsiveness.
Adapting newer technologies to leverage the maximum out of the infrastructure and fortifying their IT network is essential for chemical companies to improve their output.
Today, the chemical sector has entered a phase of adoption: adapting newer technologies, transformative business models, and more. These changing times create excitement and uncertainty amongst the chemical companies who are continually looking to enhance their market share by driving productivity. While many chemical companies have invested heavily in better, newer IT infrastructure, they have not succeeded in leveraging this infrastructure to its maximum potential. On the other hand, other companies are still wary of going the digital way, creating uncertainty among decision-makers in chemical companies.
According to PWC's 23rd Annual Global CEO Survey, 33% of chemicals CEOs are not very confident about their company's prospects for revenue growth in the next 12 months.
It is evident that chemical companies are facing challenges when it comes to improving productivity and growth rate. By looking at how chemical companies can overcome these uncertainties, one would first need to comb through the chemical industry pain points when it comes to driving productivity.
The Chemical Industry Challenges in Improving Productivity:
1.The Steep Fall in Oil Prices:Commodities prices are the catalysts in deciding the outcome rates of the chemical companies. The year 2020 saw an unprecedented decrease in oil prices, causing chemical companies across the USA and the globe to suffer low productivity rates. The soft commodities prices have also caused a massive imbalance in the raw material's demand patterns, resulting in a disrupted product lifecycle for many chemical companies. Outcomes are getting hit across the board due to affected oil prices.
2.Difficulties in Adapting to Newer Technologies:Adapting newer technologies and tools is not only a smart move but an inevitable one for the chemical companies. The need of the hour to build a robust IT infrastructure can generate and analyze data, automate operations, and streamline the supply chain. However, many chemical companies are still not at an advanced stage of going digital and cannot make use of the latest technologies. Lack of skilled, knowledgeable professionals and consultants also leads to often misguided judgments, causing productivity to take a hit.
3.Lack of Real-time Visibility to Different Stakeholders:Chemical companies involve multiple stakeholders, many of whom are geographically separated. The production process involves changes, call-backs, and unexpected challenges at any point in the chemical product's lifecycle. However, with legacy systems and reliance on manual intervention, there is a lack of transparency and complete visibility to all the stakeholders involved – leading to process delays, communication gaps, and operational glitches. All these negatively impact the rate of productivity.
4.The Snowball Effect of Covid-19 Pandemic:The COVID-19 pandemic has challenged the business outlooks for the year 2020 in the first quarter itself. Borders had to be closed, transportation had to halt, travel stopped, and plants shut. Supply chains globally were disrupted; operations across chemical plants either slowed down or stopped. The slowdown had a massive effect on the productivity in the chemical sector. Even as the world is slowly starting to open up again, there are still skeletal workforce issues, lack of investments, and demand discrepancies that will continue to haunt the chemical companies.
FIGURE 1:How Modern ERP Systems Enable Better Productivity

The Way Ahead: Overcoming the Chemical Industry Challenges with Digitization
The chemical companies need to embrace technology to keep up with the changing times. Opting for data analytics and automation will streamline challenges in operations management and help maneuver efforts to increase productivity. A healthy IT infrastructure with robust enterprise resource planning (ERP) and management capabilities such as the Microsoft Dynamics 365 Finance and Operations can serve as the one-stop solution for various chemical company challenges.
FIGURE 2:ERP in Chemical Industry: The Benefits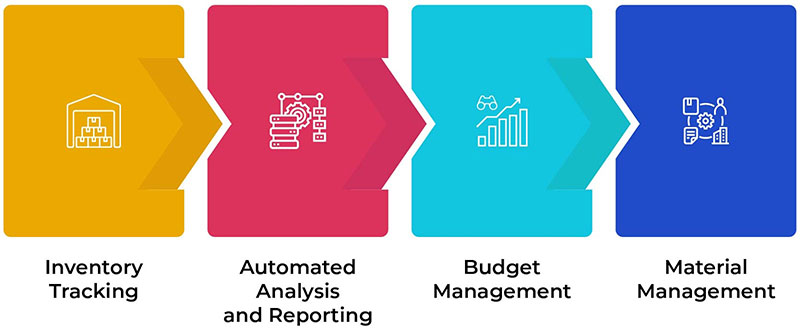 Microsoft Dynamics 365 ERP helps in keeping track of the budget, managing changing prices and adjusting actuals accordingly, collating and analyzing data from chemical plants and top floor, and many such enterprise management functions. Your chemical company will have a systematic tool that keeps track of orders, bill of material, production processes, supply chain, booking, and revenue that helps immensely in anticipating plausible glitches and avoiding them with proactive measures.
There is no doubt that chemical companies will thrive with the adoption and utilization of technology in its prime. The decision-makers in these companies can bring transformation and enhance productivity by investing in the future and making the right choices of welcoming the change.
Key Takeaways:
Changing times call for change in attitude, and the chemical companies will need to integrate this change in every facet of product development to be effectively market-responsive
With a robust ERP system and other cutting-edge technologies, the chemical companies can plan and act upon increasing their outcome rate.
(Visited 1 times, 1 visits today)
Comments
comments