Cetified business analysis professional (CBAP) Exam Questions
Certified Business Analysis Professional is a certification awarded by the International Institute of Business Analysis (IIBA); it is the level 3 certification.PassQuestion provides the latest Cetified business analysis professional (CBAP) Exam Questions to help you in every possible way to clear the IIBA CBAP real exam on your first attempt. You can get all the help you need to clear Certified Business Analysis Professional (CBAP) Certification exam easily. We ensure you will be able to get best CBAP Exam Questions to achieve high score in you CBAP exam.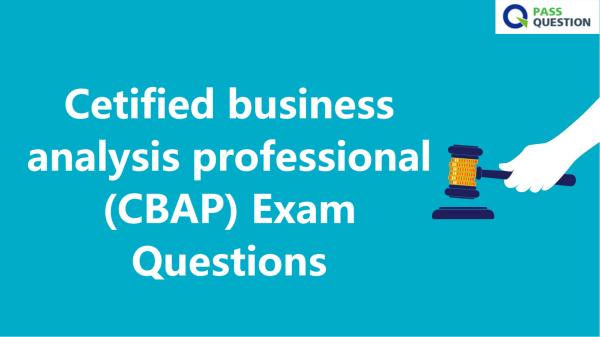 The Certified Business Analysis Professional (CBAP) designation is a professional certification for individuals with extensive business analysis (BA) experience. CBAP recipients are the leading, senior members of the BA community.The CBAP exam consists of 120 multiple choice questions and must be completed within 3.5 hours. Formulated from the BABOK Guide, exam questions are both scenario and case study-based.
What are the benefits of obtaining the CBAP Certification?
It demonstrates you have the knowledge, competencies and experience as a highly effective business analysis professional.
It allows you to stand out to employers and peers by showcasing your dedication to your career and the profession of business analysis.
CBAP certified professionals have higher compensation, earn up to 13% more being CBAP certified.
To earn the CBAP designation, candidates must:
Complete a minimum of 7,500 hours of Business Analysis Work experience in the last 10 years.
Within this experience, a minimum of 900 hours completed in 4 of the 6 BABOK Guide Knowledge Areas, for a total of at least 3,600 of the required 7,500 total.
Complete a minimum of 35 hours of Professional
Development in the last 4 years.
Provide two references.
Agree to Code of Conduct.
Agree to Terms and Conditions.
Pass the exam.
CBAP Exam Blueprint
Business analysis planning and monitoring   14%
Elicitation and collaboration         12%
Requirements life cycle management     15%
Strategy analysis       15%
Requirements analysis and design definition    30%
Solution evaluation    14%
View Online Certified Business Analysis Professional (CBAP) Sample Questions
1.A business analyst (BA) works for an organization that is moving from a waterfall methodology to an agile approach. This causes new challenges and opportunities for the BA.
Which business analysis planning and monitoring element is most impacted by the organization's change?
A. Timing of business analysis work
B. Conflict and issue management
C. Technology and infrastructure
D. Solution scope
Answer: A
2.You are the business analyst for your organization and are preparing for the conduct elicitation activities. You'll have six inputs as you prepare for this activity.
Which one of the following is not a valid input for the requirements elicitation activity?
A. Requirements management plan
B. Documented elicitation results
C. Solution scope
D. Business need
Answer: B
3.Your organization is using a plan-driven approach to business analysis.
What characteristic must be true of changes in the approach that your organization is using?
A. All the changes only occur if they are less than an agreed factor, such as ten percent of the solution's overall cost or a percentage of the project's schedule.
B. All the changes only occur if they are less than ten percent of the solution's overall cost.
C. All the changes only occur if they are genuinely necessary.
D. Changes are generally not permitted in the plan-driven approach to business analysis.
Answer: C
4.Which of the following charts is described in the statement below?
"It shows the causes of a certain event. A common use of this diagram is to identify potential factors causing an overall effect. It helps identify causal factors and contributing causes."
A. Ishikawa
B. Flowchart
C. Process configuration chart
D. Control chart
Answer: A
5.Which of the following defines the deliverable the customer is expecting?
A. Project charter
B. Procurement management plan
C. Product scope statement
D. Project network diagram
Answer: C
6.During the testing phase, a new requirement surfaced and the stakeholder asked the developer to modify the code without informing the Business analyst (BA). The BA became aware of the new functionality after a defect was raised against another component of the design.
The BA can keep this situation from occurring in the future by creating a:
A. risk strategy.
B. prioritization approach.
C. change control process.
D. stakeholder engagement plan.
Answer: C
(Visited 2 times, 2 visits today)
Comments
comments