RIL sells stake to Saudi Aramco, signs JV with BP Plc
In one of the largest foreign investments ever to be made in India, Reliance Industries Ltd (RIL) has decided to sell 20% stake in its oil business to Saudi Aramco, the world's largest oil company producing one in every eight barrels of crude oil globally. The deal value is estimated to be around $15 billion — at an enterprise value of $75 billion — and money received by RIL will be used partly to pare the company's debt. This is the fourth divestment announced by the company this year. Also, RIL had signed a pact with BP Plc to form a joint venture in the petroleum retailing business, in which RIL will hold 51% stake and the company and will get Rs 7,000 crore from BP Plc.
These two deals further outline RIL's strategy that it wants to move into the technology sector as a part of the company's efforts to expand its consumer-facing businesses. Moreover, these two deals, and another one signed earlier to sell stake in its telecom tower arm to Canadian investment firm Brookfield Asset Management for Rs 25,000 crore, clearly indicates that RIL wants to cut debt by selling stakes in its companies. As on March 2019, RIL has a net debt of Rs 1,54,478 crore and the company is aiming to be zero net debt company by end of March 2021.
The deal is subject to due diligence, definitive agreements, regulatory and other approvals. RIL expects that the transaction will close before March 2020. From the Saudi Aramco deal, RIL will receive the proceeds in three stages. Around 50% will come on closing of the deal, 25% after one year of the closing of the deal and 25% in the following year.
What does the deal with Saudi Aramco means to RIL
Once the deal shapes up, Saudi Aramco will supply 5,00,000 barrels of crude per day to RIL's twin refineries at Jamnagar in Gujarat on a long-term basis. The Saudi oil giant will take the 20% stake in a proposed special purpose vehicle housing the two refineries of RIL and the firm's petrochemical complex. In fact, RIL's two refineries in Jamnagar have a total capacity of 68.2 million tonnes per annum. This partnership will be a good synergy between the world's largest oil producer and the world's largest integrated refinery and petrochemicals complex. The Jamnagar complex has been refining Saudi crude for the past two decades and the refinery is the largest and most complex refinery in the world, with deep integration of refining and petrochemical activities across multiple manufacturing facilities.
For Saudi Aramco, the investment will be a good expansion outside its own country and the company has increased its investments in Asian refineries in recent years in order to lock in sales of crude in the coming years. However, the global oil giant will only have n economic interest for the first five years, not a direct equity stake. It will function as a division of RIL. After five years, Aramco will pick up a direct stake and a division will be spun off into a separate company and become a subsidiary of RIL.
India is one of the few countries reporting high growth of fuel demand and Saudi Aramco's aggressiveness for the Indian market can be seen from this deal. In fact, Saudi Aramco has been eyeing stakes in refining ventures abroad and will invest in a planned 60 million tonnes (MT) refinery and petrochemicals complex in Maharashtra along with Abu Dhabi National Oil Company and India's state-run oil refiners such as Indian Oil Corporation, Hindustan Petroleum Corporation and Bharat Petroleum Corporation. However, the project called Ratnagiri Refinery and petrochemicals Ltd is facing land acquisition challenges.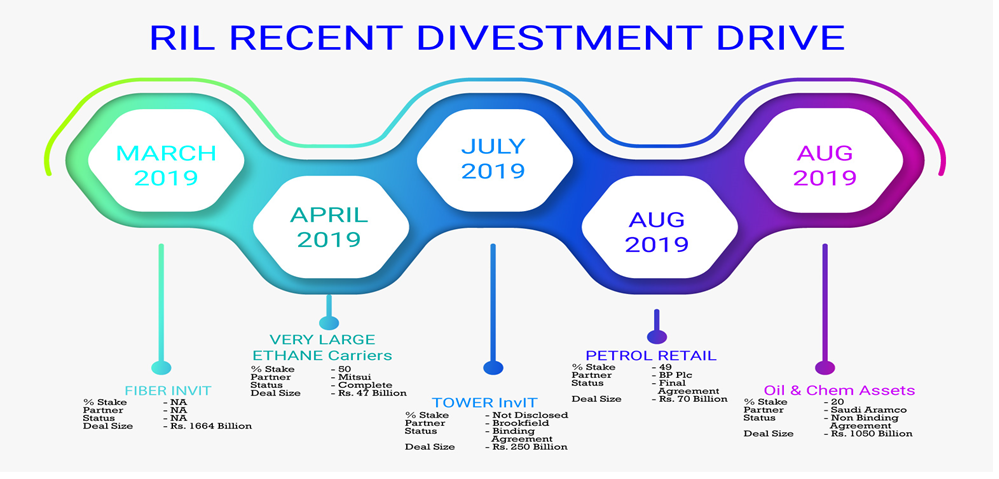 For RIL, the Saudi company which is the world's largest and lowest cost-per-barrel producer of crude oil, is geographically closer to the Jamnagar refinery and produces a wide range of crude oil. Also, Saudi Aramco is targeting competitive assets that are well placed through petrochemical integration and increase its refining and petrochemical capacity. The deal will help RIL's crude sourcing capabilities that have traditionally given it an edge over many other companies and boosted the company gross refining margin. Apart from security of supply of crude, the deal will give RIL pricing advantages given that the fact the world's largest oil producer will also be an investor in RIL's business and crude remains the main raw material.
About RIL
Reliance Industries is engaged in hydrocarbon exploration and production, petroleum refining and marketing, petrochemicals, retail and telecommunications. RIL's refining and petrochemicals assets include 1.2 MT barrels of oil per day of highly sophisticated refining assets in Jamnagar. RIL also has a leading position in polyester and intermediates, as well as steam crackers and polyolefins capacity at another four locations in the country.  RIL earned revenue of Rs 5.7 lakh crore in FY19 from processing 68 MT of crude, clocking exports of Rs 2.24 lakh crore and EBITDA of Rs 52,000 crore.
Table 1: RIL Consolidated Financials (All Figs in ₹ Billion)
| | | | |
| --- | --- | --- | --- |
| | Net sales | Net profit | Finance cost |
| FY17 | 3301 | 298 | 39 |
| FY18 | 4082 | 361 | 80 |
| FY19 | 5810 | 398 | 164 |
Source: Company's Annual Report, BSE
About Saudi Aramco
Saudi Aramco, officially the Saudi Arabian Oil Company (formerly Arabian-American Oil Company), is a Saudi Arabian national petroleum and natural gas company based in Dhahran. It is one of the largest companies in the world by revenue and the most profitable company in the world. It has both the world's second-largest proven crude oil reserves, at more than 270 billion barrels and second-largest daily oil production. The company operates the world's largest single hydrocarbon network, the Master Gas System. Saudi Aramco operates the Ghawar Field, the world's largest onshore oil field, and the Safaniya Field, the world's largest offshore oil field. Saudi Aramco reported net income of $46.9 billion in the first half of 2019, as the state energy group was hot by lower oil prices.
Deal will reduce debt of RIL
Both the deals and the telecom tower deal put together will help RIL reduce its debt which has piled up after the aggressive rollout of new-age-consumer facing businesses RJio and retail. In fact, recently a report by Credit Suisse had raised concerns about RIL's mounting debt. It said that RIL's financing liabilities had risen from $19 billion in FY15 to $65 billion in FY19, while its net debt rose from $2.7 billion to $12.4 billion during the same time period. The additional debt at the consolidated balance sheet grew from $9.4 billion to $20.6 billion during the same period. The piling debt has increased the interest servicing cost of the company from $1.2 billion in FY15 to $4 billion in FY19.
The money raised from the deals would lead to a sharp reduction in debt levels and give the company the additional funds to fuel its expansion plans, especially in the telecom business.
Conclusion
If the deal works out, RIL will have a big advantage as it will get crude and will not come under any price shocker due to volatility in global oil prices. The stake sale will accentuate RIL's move towards consumer business in the overall business mix. The company has been increasing its share of non-oil business in the last few years –- the consumer-facing business contributed one-third of the consolidated segment EBITDA — and the deal will give a further fillip to that by paring the rising debt. Overall, the deal will be a win-win for both RIL and Saudi Aramco in the long-run.
Comments
comments